Sandrine Colson - Fine Arts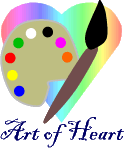 Sandrine Colson - Painter & Mixed Media Artist
My mission as an artist is "Valuing The Uniqueness In Each Of Us."
THE JOURNEY
​
Some time ago I started a journey to rediscover who I was under the guidance of, surprisingly, an art business class, "Artists who Thrive." It ended up being one of the best things I did in my life. This was not just a class but a journey towards who I truly was and how I could help people.

Artists sell emotions. Thus, it makes sense to understand what motivates us, artists, - what makes us do what we do. To do this, one needs to search in the depth of our souls and emotions who we are. After my own emotional and soul reflections and some research I realized that one thing people need is to be valued and loved for who they truly are, not necessarily how people around us see us but how we truly are inside. This was my "why" and helped me developed my mission.

THE PROCESS
​
How can one "Value the uniqueness in each of us?" There is more than one way to do so but the way I decided to solve this is by creating a portrait based from an interview with the person in question while incorporating his/her memories of her/his true self. Memories can take the form of pictures, words, objects, sayings, people, etc. The result is visual biography, a portrait biography. See my self-portrait below as an example.
​
HOW CAN YOU HELP?
​
I am looking for volunteers to help me satisfy my mission. You don't have to buy the final piece, unless you wish to. If you're interested in participating, please contact me.

ARTIST STATEMENT
I am a versatile artist working in acrylic and mixed media compositions. The compositions are abstract, referencing natural forms and movement, filled with bright paint swirls, playful paper cut-outs, and three-dimensional objects, resulting in richly textured abstract canvases with intricate layering. My work is a continuing experimentation with form, color, and medium. It is a snap-shot representation of stories that unveil under my brush, or through various mixed-media, letting innovation and creativity materialize on the canvas, leaving the viewer to his or her imagination to finish the story I started, making imagination, visible.
My mission as an artist is valuing the uniqueness in each of us by telling stories of who they are or is important to them. I have always imagined myself as a teller of "stories" except that images, landscapes, colors, flowers, mixed media, sculptures, paintings, and other ways of expressing myself as an artist using colors, materials and textures, are my ways of telling stories. I am a painter of stories. All my pieces have a story to tell. Some for the viewer to find on their own, some more guided through my brush or the theme of the piece.
"Art is the expression of one's inner self. It represents what is, has been, will be, or is worth arguing or representing.
It's an ever evolving story of imagination." Sandrine

ARTIST BIO

From a family of artists, Sandrine is originally from Provence, France. She has been making and enjoying art throughout her life. Initially trained as a scientist and engineer, an inspiration for many of her pieces, she has focused her time on creating fine art. Beginning in 2013, Sandrine has been showing her work as a professional artist. These exhibitions include solo shows and numerous juried group exhibits. Selected jurors include George Nick, Arlette and Gus Kayafas.

Sandrine is a world traveler and visited countries in the Americas, Africa, Asia and Europe. She has lived in various parts of France and the United States, and now resides in Boston, MA. Her work has been exhibited in galleries and museums in New England, New York and other US regions as well as Mexico, Montreal in Canada, Barcelona in Spain, and Paris, France.


"When I look around me and see more than people, the world, beauty, colors, light and emotions, then,
I know it is time to express what I see and feel through art." Sandrine

Sandrine's STUDIO is part of the Western Avenue Studios, 122 Western Avenue, Lowell, MA - the creative soul of Lowell, a community of heart and craft, home to more than 350 artists. For more information or to visit my studio, please contact me.
​