Sandrine Colson - Fine Arts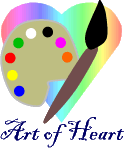 ENVIRONMENTAL EFFECTS
There are many ways to interpret what "environmental effects" can be. Most people see the environment as the natural world where all living beings live. In that context, "environmental effects" would refer, in our view, to any influence human would have on the natural world, either beneficial or detrimental. Another way to look at what "environmental effects" refers to is the surrounding or conditions that affects humans as they grow or as they live their life.
​
Sandrine Colson is looking at "environmental effects" as being the changes happening in our earth due to human influences. Her pieces are a mixed of flowing colors with textural effects using different acrylic pouring and mixed media techniques showing to us how nature (air, water, earth and fire) evolves as humans continues doing their thing affecting their surrounding and the seasons in detrimental ways from the microscopic to the macroscopic. A lover of oceans, she constructed a message to all in her display "under the sea," informing us how pollution and especially plastic affect us and the oceans.
Show dates: October 2 – 23, 2021
ATLANTIC WORKS GALLERY, 80 Border Street, MA.
Click above on the sound icon for the musical background